Indications
Assess for peripheral arterial disease (PAD)
Assess for risk of arterial injury in trauma
Test characteristics
PAD: ABI <0.90 sensitivity 95%, specificity 100% for >50% stenosis on arteriography1
Trauma: API <0.90 sensitivity 95%, specificity 97% for major arterial injury2
Technique for obtaining arterial pressure indices3
Patient lies supine with extremities at level of the heart for 10 minutes
Ankle: cuff positioned just above malleolus
Brachial: cuff positioned just above antecubital fossa
Doppler SBP
Sequence: first arm, first PT, first DP, other PT, other DP, other arm. If SBP of first arm >10mmHg compared to second arm, repeat first arm and disregard first measure
Calculation: ABI = higher of DP or PT / higher arm
Interpretation of ABI for PAD3
| Value | Interpretation |
| --- | --- |
| 0-0.40 | Severe PAD, rest pain, gangrene |
| 0.41-0.90 | PAD, claudication |
| 0.91-1.30 | Normal |
| >1.30 | Non-compressible, severely calcified |
Algorithm for the Evaluation of Arterial Injury4, 5
Notes:
† If unable to palpate pulses due to patient habitus or shock/hypothermia, reattempt with oversized cuff and after appropriate rewarming/resuscitation. If remains challenging, proceed with imaging.
‡ Proximal LE arterial injuries refers to the major named arteries of the thigh (excluding the profunda femoris) and proximal to the anterior tibial artery and tibioperoneal bifurcation.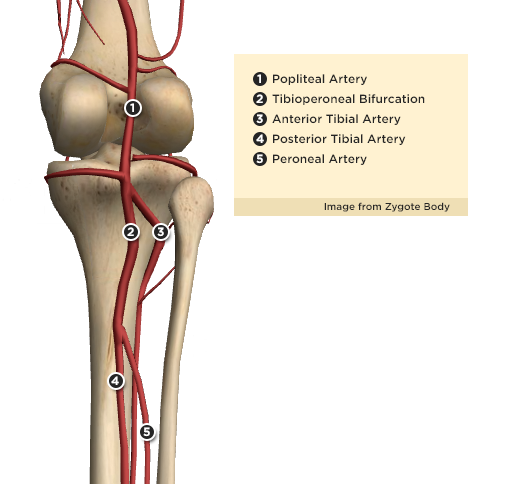 References:
Mohler ER. Peripheral arterial disease: identification and implications. Arch Intern Med. 2003;163(19):2306-2314. doi:10.1001/archinte.163.19.2306.
Johansen K, Lynch K, Paun M, Copass M. Non-invasive vascular tests reliably exclude occult arterial trauma in injured extremities. The Journal of Trauma: Injury, Infection, and Critical Care. 1991;31(4):515–9–discussion519–22.
Aboyans V, Criqui MH, Abraham P, et al. Measurement and interpretation of the ankle-brachial index: a scientific statement from the American Heart Association. Circulation. 2012;126(24):2890-2909. doi:10.1161/CIR.0b013e318276fbcb.
Feliciano DV, Moore FA, Moore EE, et al. Evaluation and management of peripheral vascular injury. Part 1. Western Trauma Association/critical decisions in trauma. J Trauma. 2011;70(6):1551-1556. doi:10.1097/TA.0b013e31821b5bdd.
Fox N, Rajani RR, Bokhari F, et al. Evaluation and management of penetrating lower extremity arterial trauma: an Eastern Association for the Surgery of Trauma practice management guideline. J Trauma Acute Care Surg. 2012;73(5 Suppl 4):S315-S320. doi:10.1097/TA.0b013e31827018e4.
Inaba K, Branco BC, Reddy S, et al. Prospective evaluation of multidetector computed tomography for extremity vascular trauma. J Trauma. 2011;70(4):808-815. doi:10.1097/TA.0b013e3182118384.