Brief H&P
A young patient with no past medical history is brought in by ambulance after a high-speed motor vehicle accident. Trauma survey demonstrates absent motor/sensation in bilateral lower extremities with sensory level at T3-T4. Computed tomography of the cervical spine was obtained and is shown below.
Imaging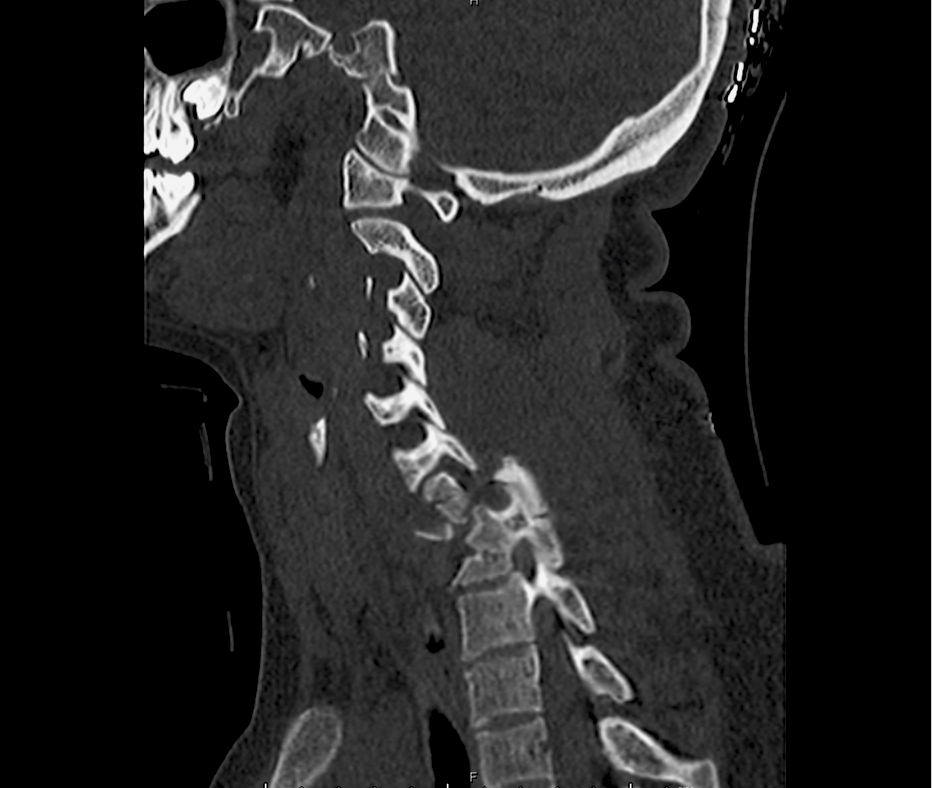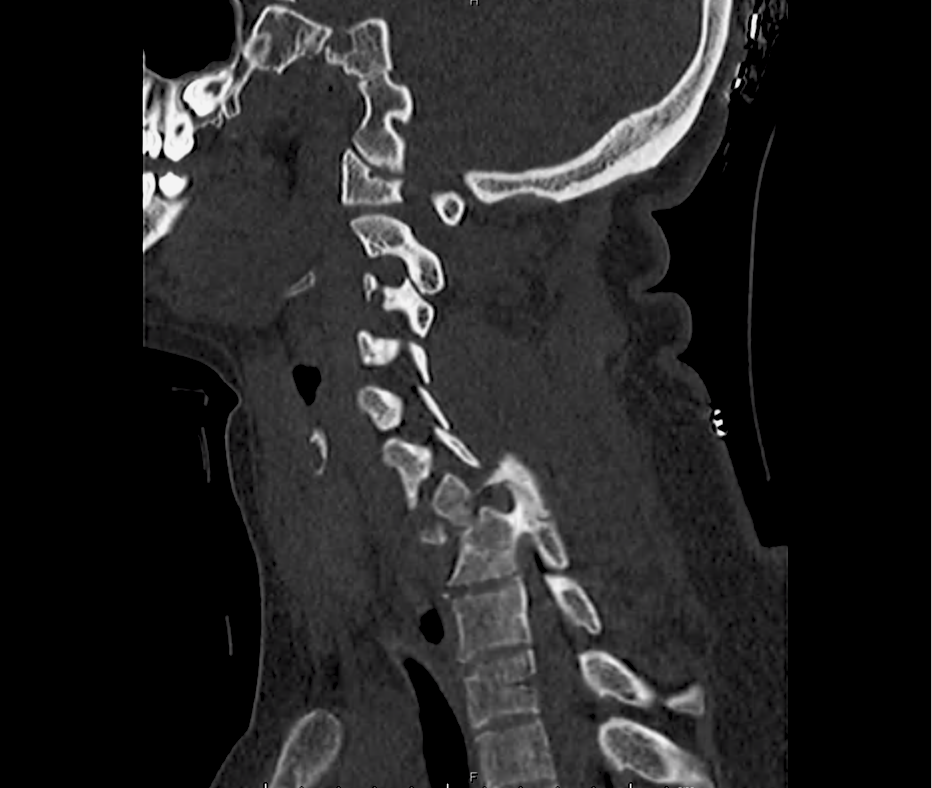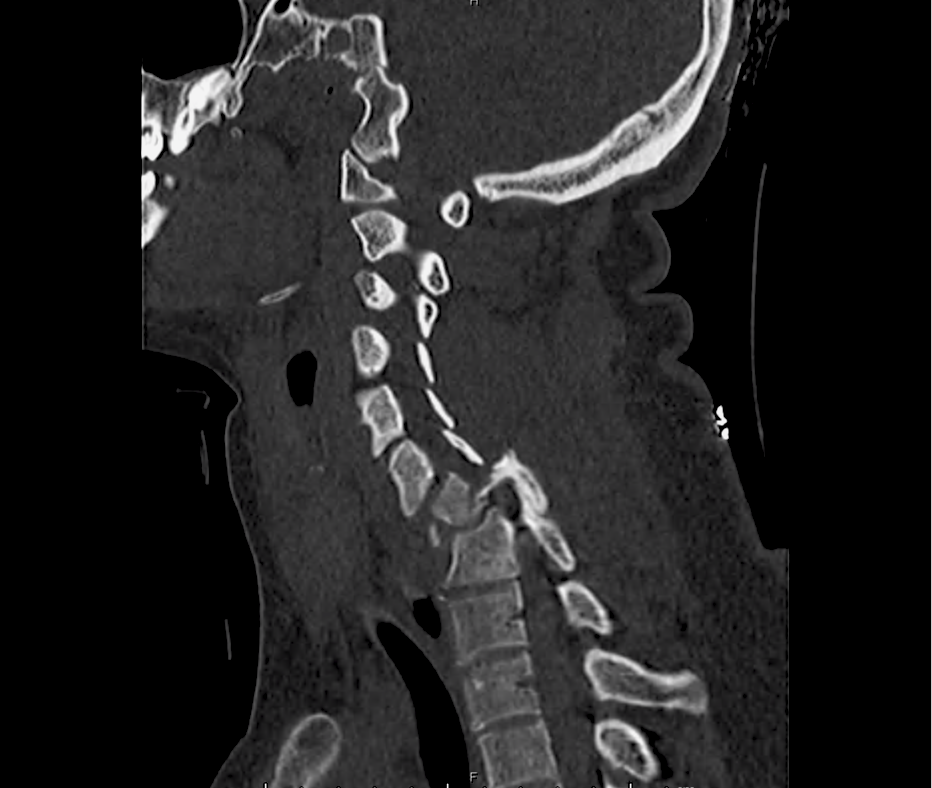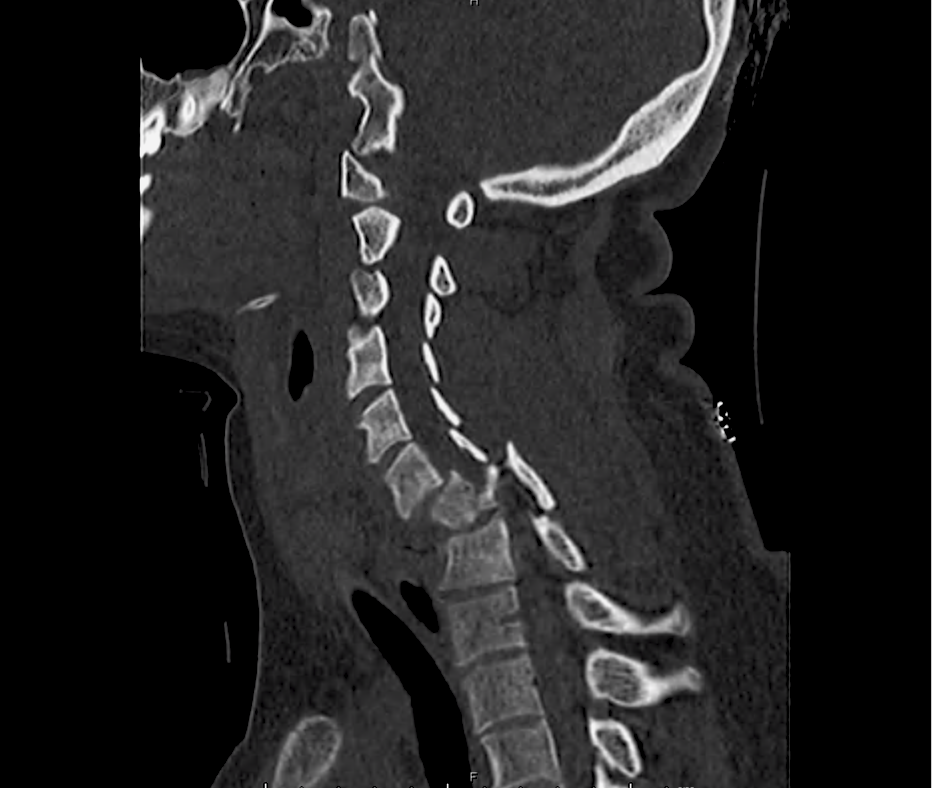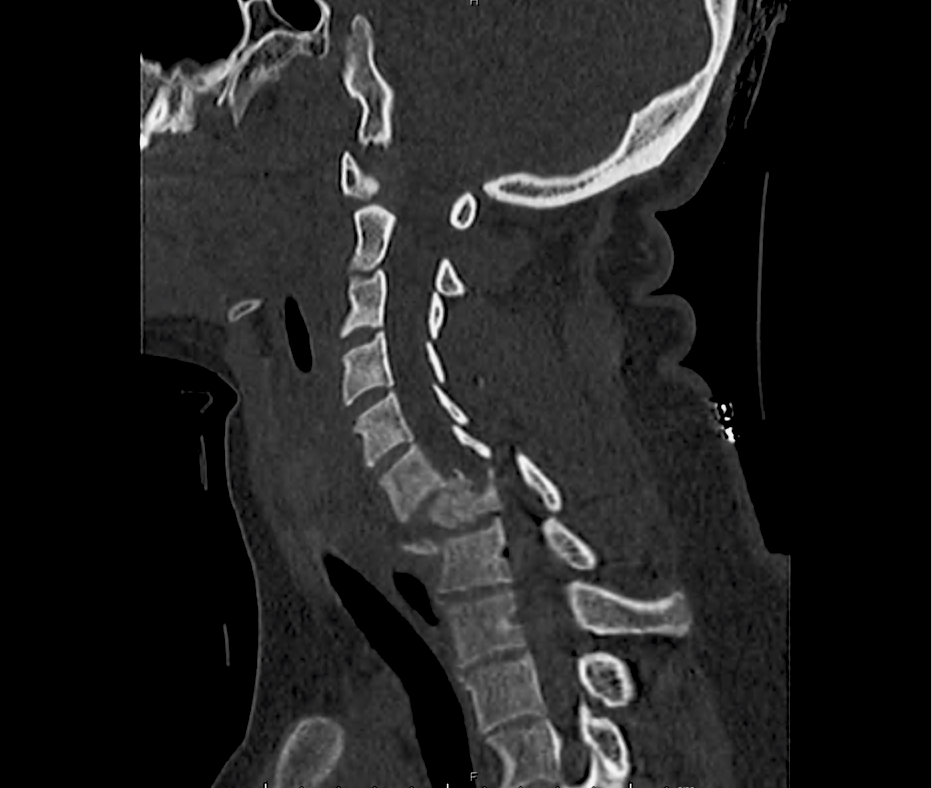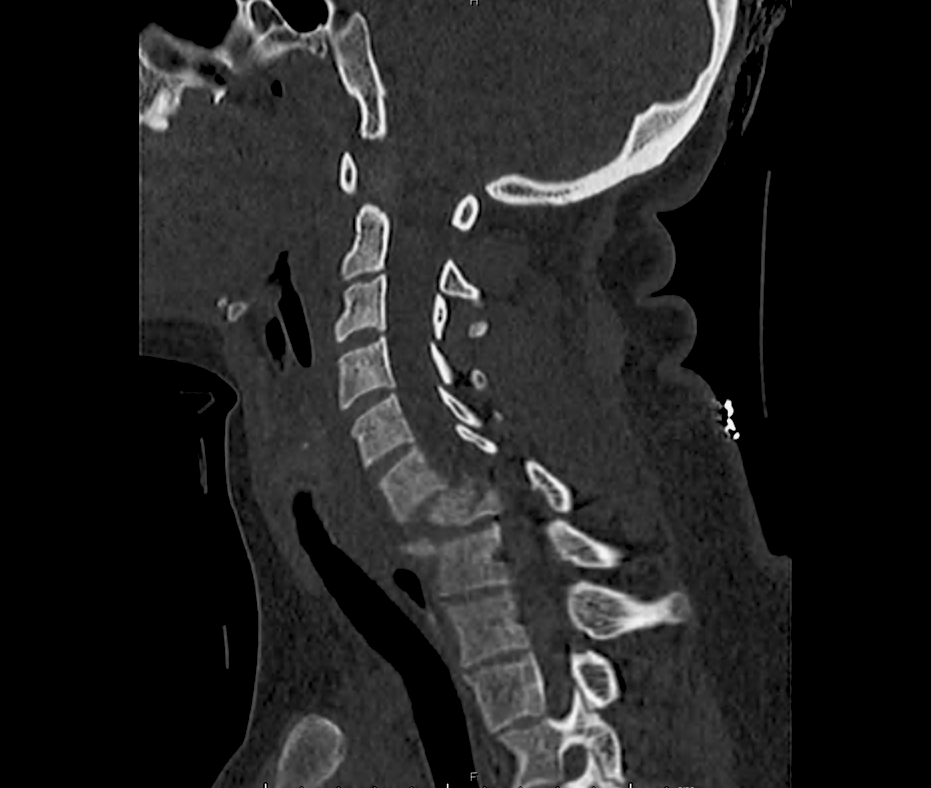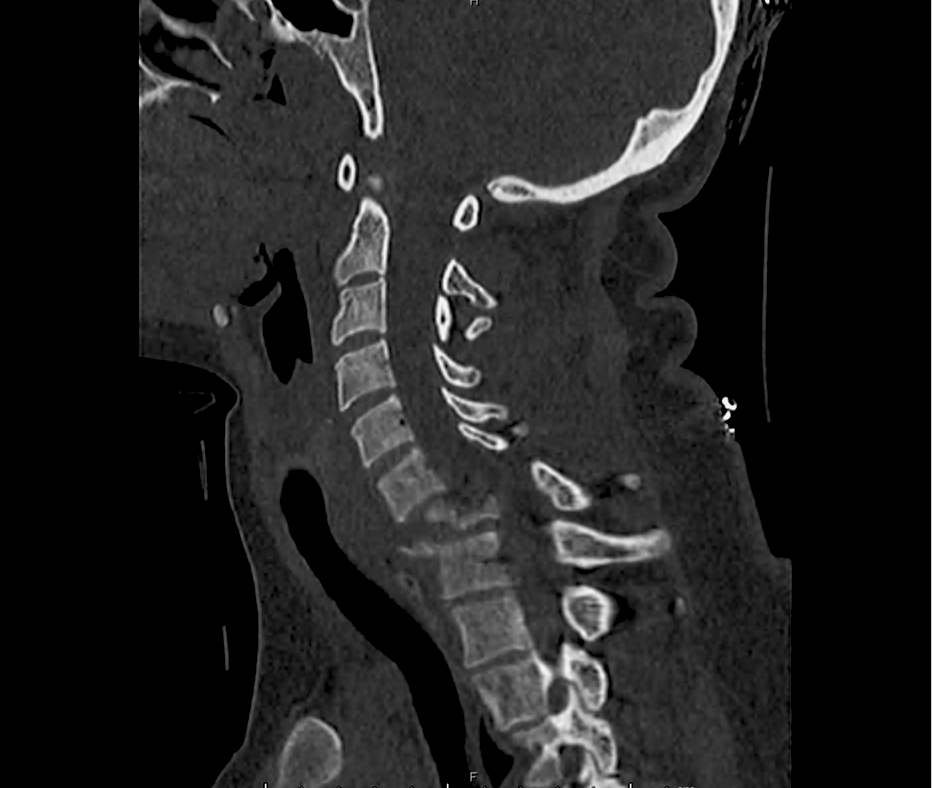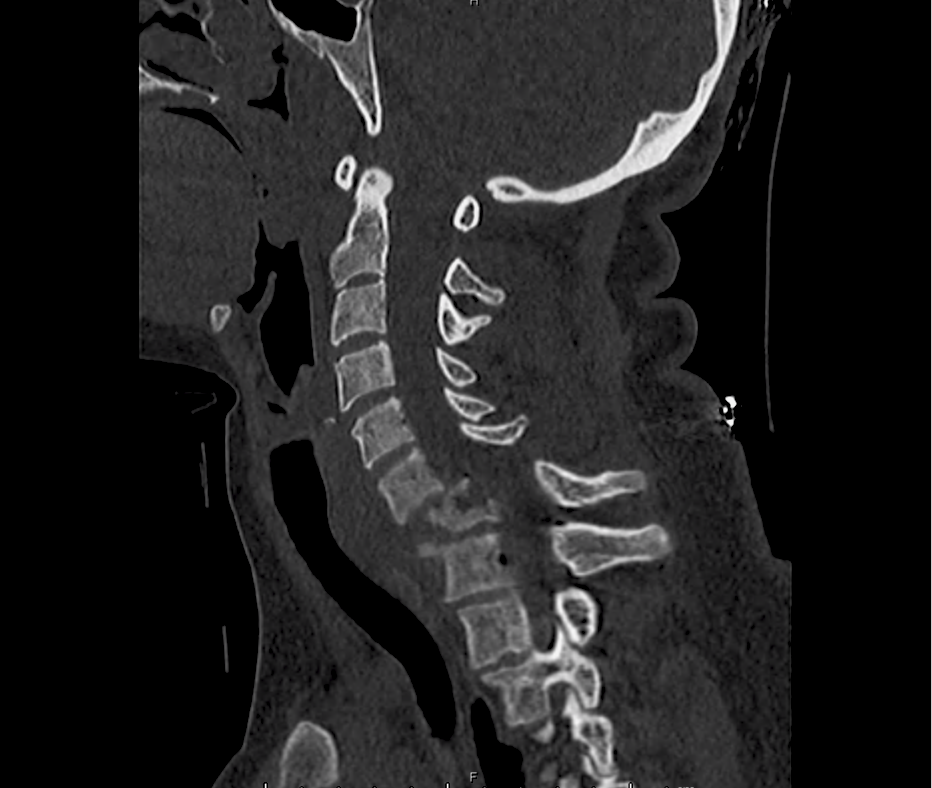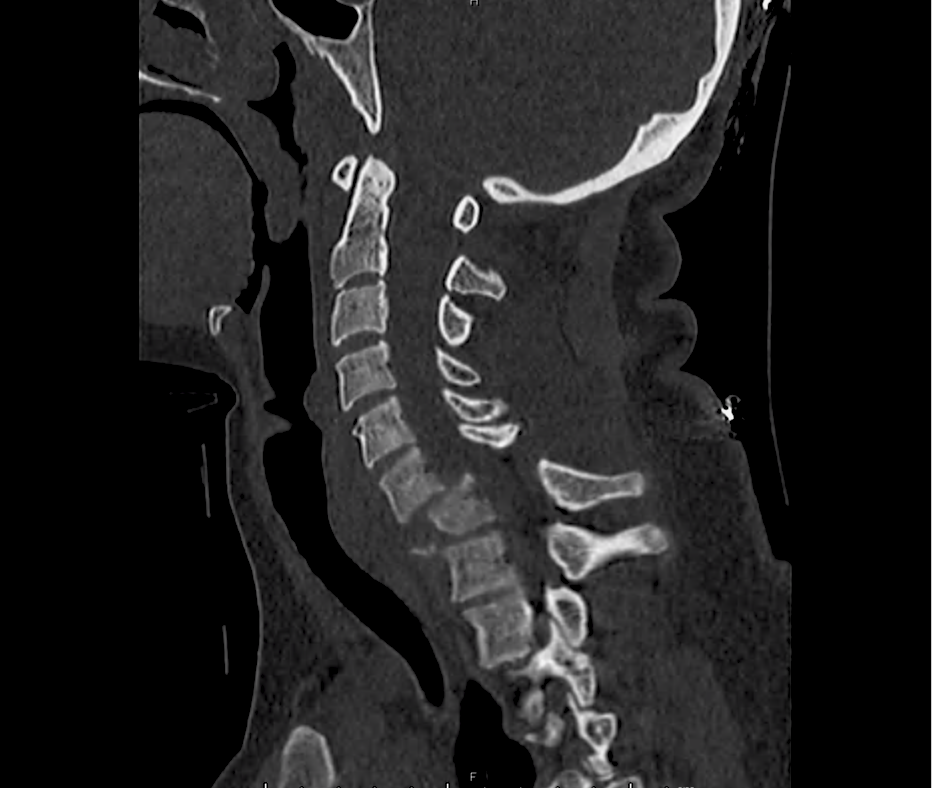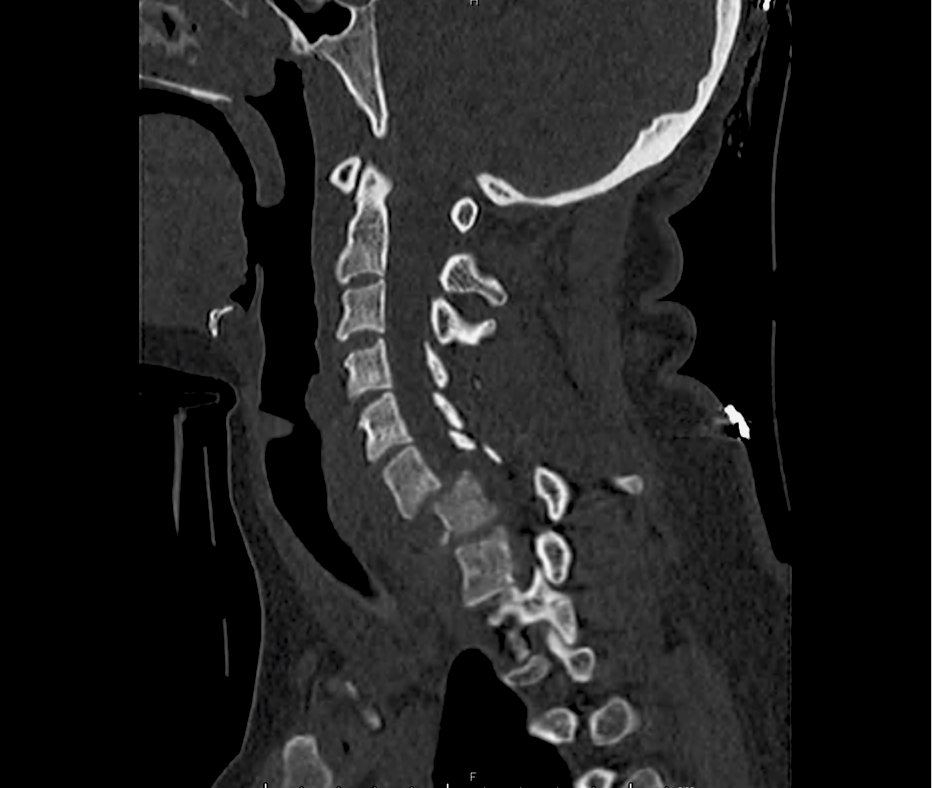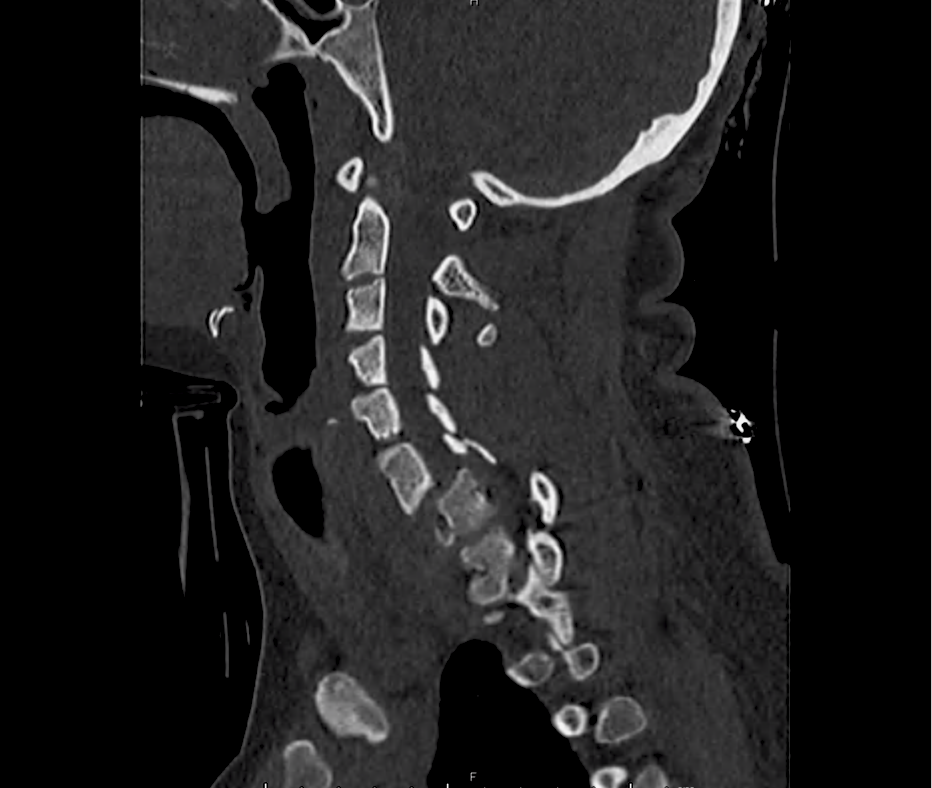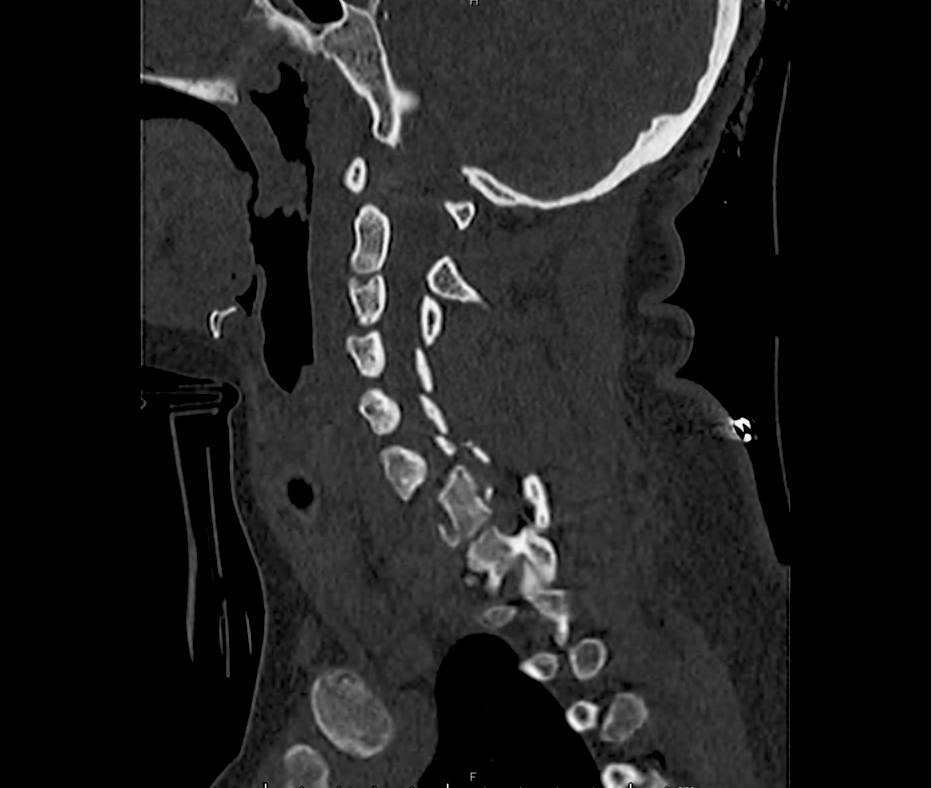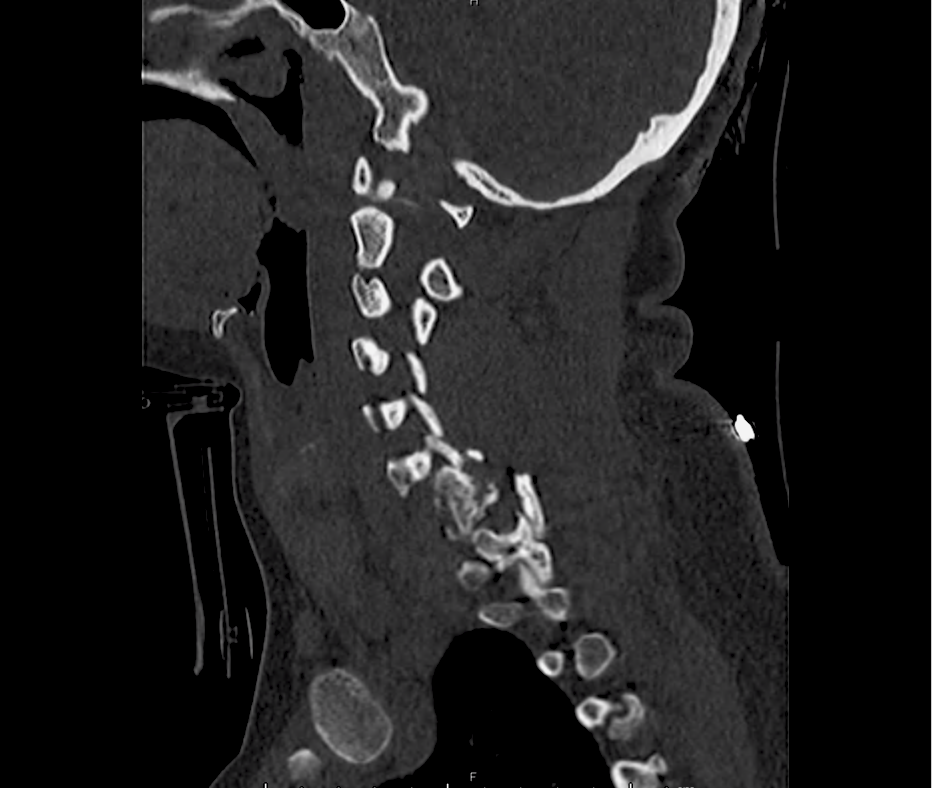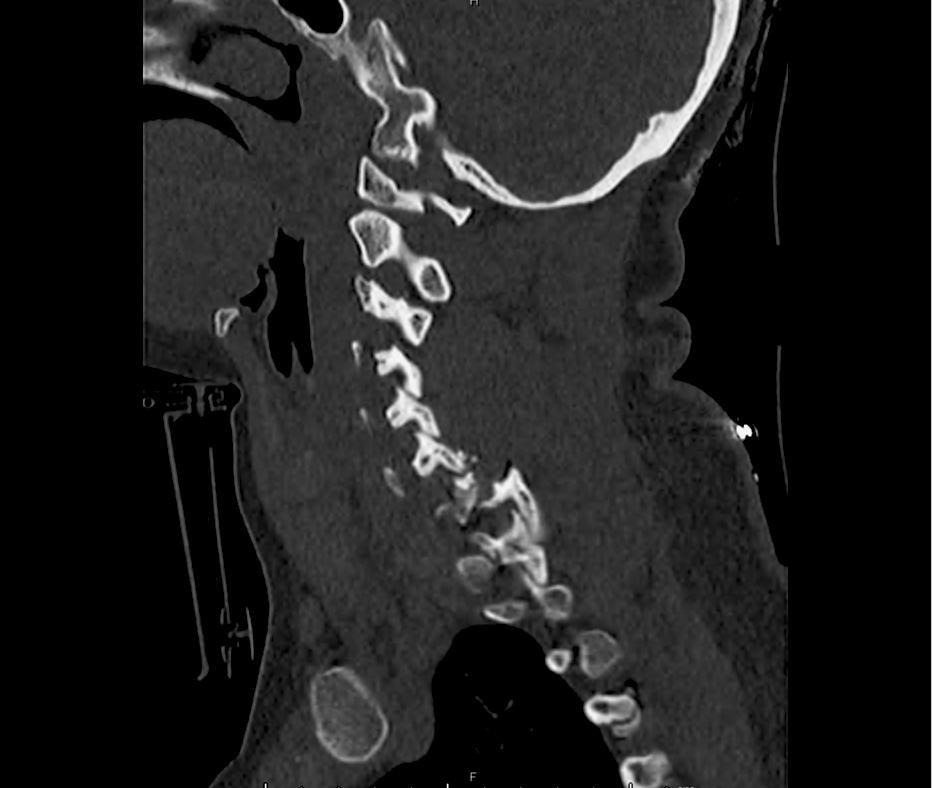 Anatomy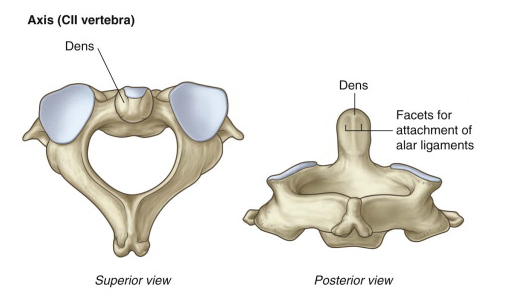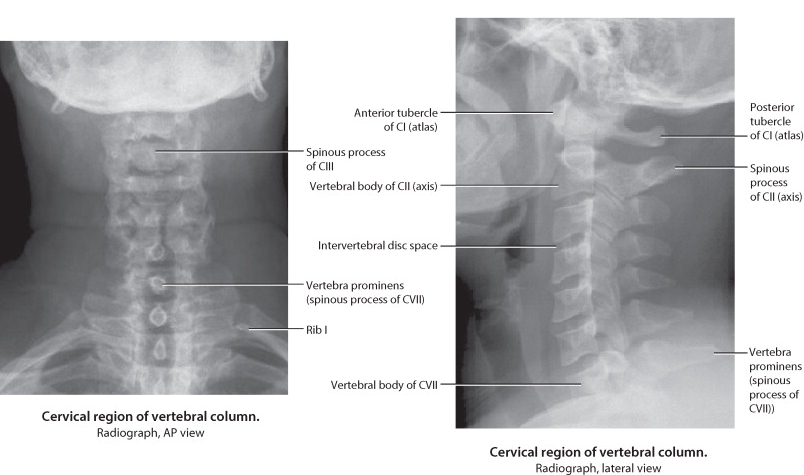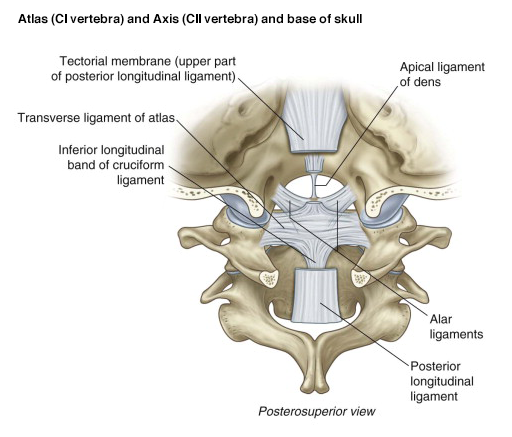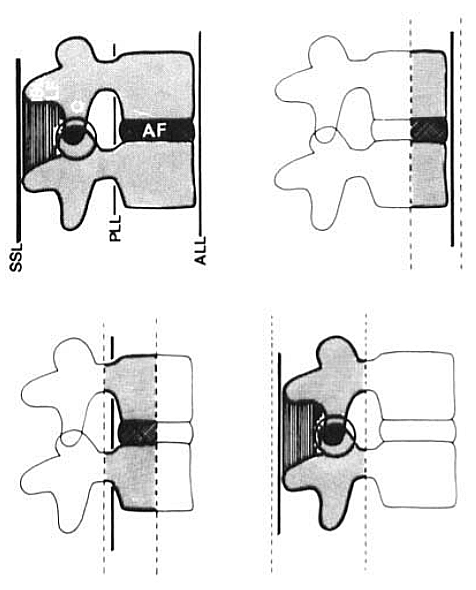 Flexion
C1/C2
Stretch on strong nuchal ligament transmits force to vertebral body.
Stability: Generally stable unless >50% compression or multiple contiguous.
Severe flexion force, avulsion of fragment of anterior/inferior portion of vertebral body.
Stability: Unstable, involves anterior/posterior ligamentous disruptions.
Oblique fracture of spinous process of lower cervical spine.
Stability: Stable
Subluxation
Pure ligamentous injury without associated fracture.
Imaging: Widening of interspinous and intervertebral spaces on lateral.
Stability: Potentially unstable.
Anterior displacement of spine above level of injury caused by dislocation of upper inferior facet from lower superior facet.
Imaging: Anterior displacement greater than ½ AP diameter of vertebral body.
Stability: Unstable
Head trauma with shear force directed at odontoid.
Sub-classification: Type I (above transverse ligament), type II (odontoid base), type III (extension to body of C2)
Stability: Types II, III unstable.
Flexion/Rotation
Rotary atlantoaxial dislocation
Imaging: Open-mouth odontoid, asymmetric lateral masses of C1.
Stability: Unstable
Flexion and rotation centered around single facet results in contralateral facet dislocation.
Imaging: AP radiograph shows spinous processes above dislocation displaced from midline, lateral radiograph shows anterior displacement of lower vertebra (less than ½ AP diameter of vertebral body).
Extension
Forced extension causes compressive force on posterior elements of C1 between occiput and C2.
Stability: Unstable
Abrupt deceleration causes fracture of bilateral pedicles of C2, potentially with associated subluxation. Rarely associated with SCI due to large diameter of neural canal at C2.
Imaging: May be associated with retropharyngeal space edema.
Stability: Unstable
Abrupt extension (ex. diving) results in stretch along anterior longitudinal ligament with avulsion of anterior/inferior fragment of vertebral body (usually C5-C7).
Imaging: May be radiographically similar to flexion-teardrop fracture.
Complications: Central cord syndrome
Stability: Unstable in extension
Vertical compression
Force applied from above or below causes transmission of force to intervertebral disc and vertebral body.
Imaging: Comminuted vertebral body, >40% compression of anterior vertebral body.
Complications: Fracture fragments may impinge on spinal cord.
Stability: Stable
Vertical force transmitted from occipital condyles to superior articular facets of atlas, resulting in fractures of anterior and posterior arches.
Imaging: Widening of predental space. Open-mouth odontoid view may reveal bilateral offset distance of >7mm between lateral masses of C1/C2.
Stability: Unstable
Cervical Spine Imaging Decision Rule (Canadian)
References:
MD RK, MD BED, CAQ-SM KHM, MD WF. Emergency Department Evaluation and Treatment of Cervical Spine Injuries. Emergency Medicine Clinics of NA. 2015;33(2):241-282. doi:10.1016/j.emc.2014.12.002.
Denis F. Spinal instability as defined by the three-column spine concept in acute spinal trauma. Clin Orthop Relat Res. 1984;(189):65-76.
Munera F, Rivas LA, Nunez DB, Quencer RM. Imaging evaluation of adult spinal injuries: emphasis on multidetector CT in cervical spine trauma. Radiology. 2012;263(3):645-660. doi:10.1148/radiol.12110526.