HPI:
40 year-old male with a history of diabetes presents with right foot pain and swelling. His symptoms began 3 days ago with pain on the lateral surface of his right foot, described as aching, non-radiating and exacerbated with walking. Yesterday, he noted more prominent swelling and redness involving 4th and 5th toes. He denies trauma, fevers, and discharge.
PMH:
Diabetes mellitus, diagnosed 8yrs ago
SHx:
Lives with wife and 2 children and works an office job.
Ten year history of tobacco use, quit 3 years ago.
No EtOH or drug abuse.
Meds:
Metformin 500mg p.o. b.i.d.
Ibuprofen p.r.n. joint pain
Physical Exam:
VS:
T
101.2
HR
88
RR
14
BP
147/71
O2
100% RA
Gen:
Obese male, pleasant and in no acute distress, lying in bed with right foot raised.
HEENT:
PERRL, EOMI, dry mucous membranes.
CV:
RRR, normal S1/S2, no extra heart sounds, no murmurs.
Lungs:
CTAB
Abd:
+BS, non-tender.
Ext:
Right lower extremity with 8x8cm area of erythema predominantly involving lateral aspect of foot, dorsum of foot and 3-5th digits. There is a shallow, 1x1cm ulcer on the plantar surface of foot near 5th MTP. Area is also notable for ecchymosis and palpable crepitus. There is minimal tenderness to palpation or with active/passive range of motion.
Skin:
The remainder of the skin exam is unremarkable.
Neuro:
AAOx3.
Labs/Studies:
BMP

: 134/4.3/104/26/18/1.4/206

WBC

: 27.3/13.1/40/189 (90% neutrophils)

Lactate

: 1.2

CRP

: [pending]
Imaging: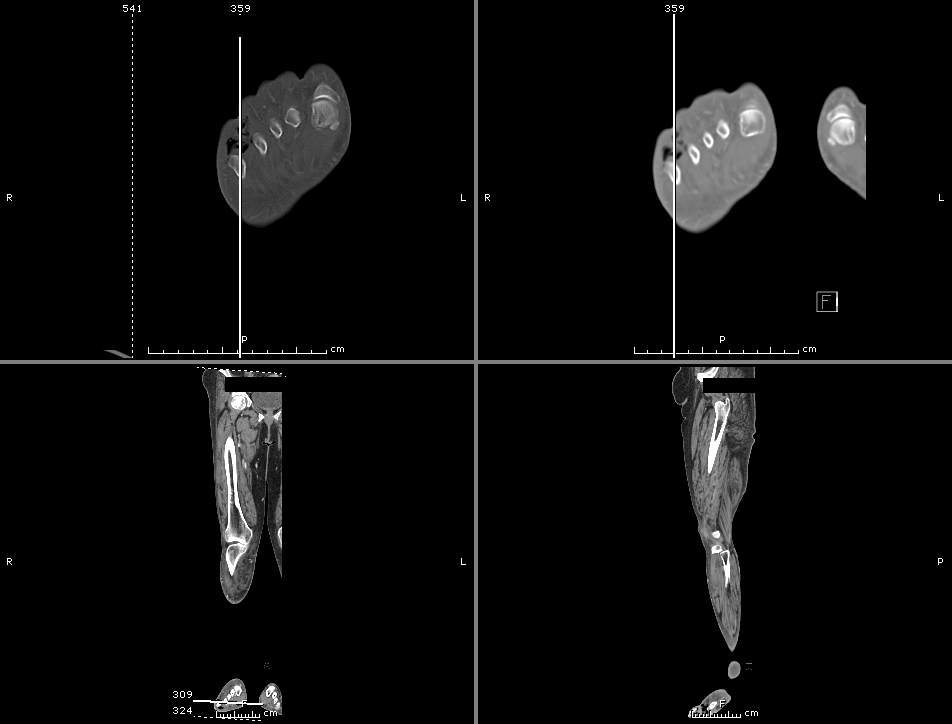 Calf cellulitis and gas-producing cellulitis in the lateral foot and toes.
Thigh and inguinal lymphadenopathy.
Although gas is seen down to the level of the bone, no definite bony changes are identified to establish a diagnosis of osteomyelitis. Please note that MRI is more sensitive for detection of early osteomyelitis.
Assessment/Plan:
40M with DM and diabetic foot ulcer resulting in a necrotizing soft tissue infection as evidenced by gas on imaging. Recommended surgical debridement and started on broad-spectrum antibiotics including:
vancomycin 1g i.v. q.12.h.
cefepime 2g i.v. q.8.h.
metronidazole 500mg i.v. q.8.h.
The patient underwent amputation of 3-5th digits with good surgical margins and was discharged on post-operative day three in good condition.
Skin and soft-tissue layers and their infections: 1
Necrotizing Soft-Tissue Infections (NSTI):2,3,4
Risk Factors
IVDA
Comorbid conditions

DM
Obesity
Immunosuppression
Physical Exam
Early (non-specific)
Late (non-sensitive)

Tense edema outside affected skin perimeter
Disproportionate pain
Ecchymosis
Bullae
Crepitus
Systemic signs (fever, tachycardia, hypotension)
Treatment
Surgical debridement
Antimicrobials

Carbapenem, combination B-lactam B-lactamase
Vancomycin, linezolid (MRSA coverage)
Clindamycin (inhibit protein synthesis)

Supportive therapy
LRINEC score 5
Name
Value
Score
CRP
≥150
4
WBC
15-25
>25
1
2
Hb
11-13.5
<11
1
2
Na
<135
2
Creatinine
>1.6
2
Glucose
>180
1
<5 Low risk, 6-7 Intermediate risk, >8 High risk
References:
Morchi, R. (2/18/14). Emergency Medicine Procedures Cadaver Lab. Clinical Clerkship at UCLA. Los Angeles, CA.
Goldstein, E. J. C., Anaya, D. A., & Dellinger, E. P. (2007). Necrotizing Soft-Tissue Infection: Diagnosis and Management. Clinical infectious diseases, 44(5), 705–710. doi:10.1086/511638
Headley, A. J. (2003). Necrotizing soft tissue infections: a primary care review. American family physician, 68(2), 323–328.
McHenry, C. R., Piotrowski, J. J., Petrinic, D., & Malangoni, M. A. (1995). Determinants of mortality for necrotizing soft-tissue infections. Annals of surgery, 221(5), 558–63.
Wong, C.-H., Khin, L.-W., Heng, K.-S., Tan, K.-C., & Low, C.-O. (2004). The LRINEC (Laboratory Risk Indicator for Necrotizing Fasciitis) score: A tool for distinguishing necrotizing fasciitis from other soft tissue infections. Critical Care Medicine, 32(7), 1535–1541. doi:10.1097/01.CCM.0000129486.35458.7D