Brief H&P
A healthy 5 year-old boy is brought to the pediatric emergency department after he informed his parents that he accidentally swallowed a coin just prior to presentation. He has no complaints and on evaluation appears to be breathing comfortably and is tolerating secretions normally. A plain radiograph was obtained and is shown below.
The patient remained well-appearing and was discharged with primary care follow-up.
---
Indications for Emergent Endoscopy
Esophageal button battery
Severe symptoms
Sharp foreign body in esophagus
Multiple magnets in esophagus or stomach
Radiographic Findings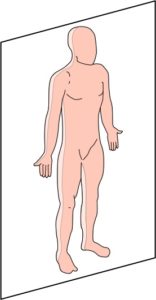 Esophageal foreign bodies typically orient coronally. For example, a coin will appear as a circle on an anteroposterior projection.
Tracheal foreign bodies typically orient sagitally. For example a coin will appear as a line on an anteroposterior projection.
Algorithm for the Evaluation and Management of Pediatric Foreign Body Aspiration
References
Sahn, B, et al. Foreign Body Ingestion Clinical Pathway. 1 Aug. 2016, www.chop.edu/clinical-pathway/foreign-body-ingestion-clinical-pathway. Accessed 26 Aug. 2017.
Wyllie R. Foreign bodies in the gastrointestinal tract. Current Opinion in Pediatrics. 2006;18 N2 -(5).
Uyemura MC. Foreign body ingestion in children. Am Fam Physician. 2005;72(2):287-291.
Chung S, Forte V, Campisi P. A Review of Pediatric Foreign Body Ingestion and Management. Vol 11. 2010:225-230.
Louie MC, Bradin S. Foreign Body Ingestion and Aspiration. Pediatrics in Review. 2009;30(8):295-301. doi:10.1542/pir.30-8-295.
Green SS. Ingested and Aspirated Foreign Bodies. Pediatrics in Review. 2015;36(10):430-437. doi:10.1542/pir.36-10-430.