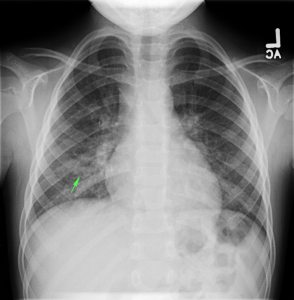 ID:
5yo girl brought to the pediatric emergency department by her mother due to 3 days of fever.
HPI:
The patient's fever was first noted 3 days ago, measured at home to 103°F. It is associated with a moist cough, vomiting, and decreased PO intake. Her mother reports that she appears lethargic and has been urinating less frequently. The patient denies headache, changes in vision, burning with urination, or ear pain. No known sick contacts, attends day care.
PMH (Birth History):
No significant medical/surgical history. Ex-term born NSVD with no complications.
PE:
VS: 95/65mmHg, 100bpm, 102.6°, 22/min
General: Well-appearing, mildly irritated but consolable
HEENT: NC/AT, PERRL, oropharynx without erythema, no cervical LAD
CV: RRR, no M/G/R
Lungs: No evidence of respiratory distress (retractions, flaring), faint crackles over right inferior lung fields
Abd: +BS, soft, non-distended, TTP RLQ > LLQ, no rebound/guarding
Back: No CVAT
Labs/Imaging:
CXR PA/Lateral: RML/RLL infiltrate
Assessment:
5yo with 3 days persistent high fever and cough. These symptoms along with examination findings of crackles warranted further imaging (CXR) which revealed infiltrate in the right inferior lung field. The patient appeared clinically stable and was tolerating PO intake in the ED and was discharged home with azithromycin 5mg/kg/dose (with loading dose), clinic follow-up and strict return precautions.
Evaluation and Management of Pediatric Fever
A System for Pediatric Fever:
Pathophysiology:

Diagnosis:
<3mo: 38.0°C, 100.4°F
3-36mo: 39.0°C, 102.2°F
Rectal > oral > axillary
Differential Diagnosis of Pediatric Fever: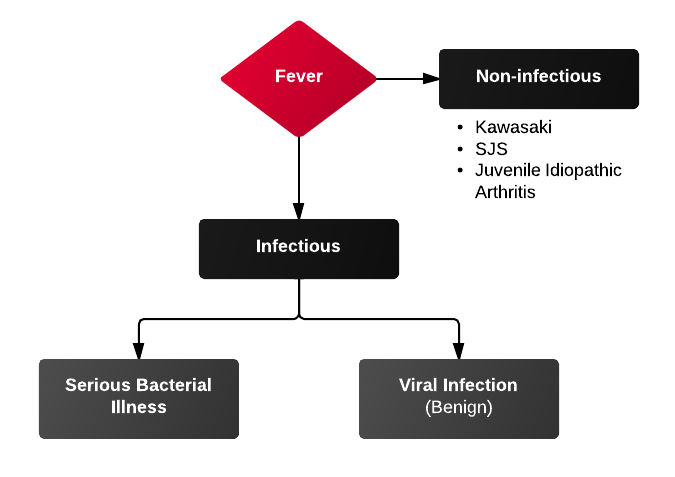 Serious Bacterial Illness (SBI):
1) UTI and pyelonephritis
Most common cause of SBI

Accounts for 3-8% of uncharacterized fevers
Female > male, uncircumcised > circumcised
Consider BCx, CSF evaluation as 5-10% bacteremic at presentation
Urinalysis: LE 75% specificity, Nitrites 97% specificity
2) Pneumonia and sinusitis
Sinusitis uncommon <3yo (sinuses unformed)

PNA diagnosed with CXR, obtain if findings of respiratory distress (grunting, tachypnea, hypoxemia) or rales on exam
3) Meningitis
Diagnose with LP

Meningitis suggested if:

ANC > 1,000
Protein > 80
Seizure (particularly complex febrile seizure)
Diagnosis by Age Group:
<3mo
Physical exam findings:

Tachypnea, hypoxemia → LRT infection
Irritability, inconsolability, bulging anterior fontanelle → meningitis
Vomiting/diarrhea → non-specific, GE, AOM, UTI, meningitis

History

Recent immunization: increased risk of SBI (usually UTI) 24-72h after immunization
Confirmed bronchiolitis (viral): enterovirus/parainfluenza associated with SBI
3-36mo
Physical exam findings:

Viral (URTI, GE) → vomiting, diarrhea, rhinorrhea, cough, rash; still playful and responsive
UTI → fever, foul-smelling urine, crying when urinating
Meningitis → irritability with handling, vomiting, bulging anterior fontanelle, complex febrile seizures
>36mo
Physical exam findings: presentation more adult-like

Watch for:

Group A Streptococcal pharyngitis
Infectious mononulceosis
Kawasaki: high fever (>5d), strawberry tongue, conjunctivitis, desquamating rash on palms/soles
External Links