ID:
A 50 year-old male with a reported two-year history of infrequent spells, presenting with two spells in the past two days.
HPI:
The patient's spells began two years ago, he recounts that he was watching television when he lost consciousness and a friend noted he started shaking; he does not recall the event, and awoke in the hospital. The next spell occurred one year later, though the patient is unable to recall much about this episode. The patient remained spell-free until yesterday when he was on a bus, lost consciousness and awoke in a hospital. He notes that he had bit his tongue and lost control of his bladder. He was discharged hours later with a prescription for an AED which he was unable to fill. This morning, the patient had another spell while in the bathroom. His roommate heard him fall, found him on the ground, and noted that his mouth was moving but did not see any other movements.
The patient's episodes are all associated with loss of consciousness and are followed by 5-10 minutes of disorientation after which he recovers fully. The episodes are sometimes preceded by a feeling of "euphoria", though this feeling sometimes occurs without subsequent LOC.
The patient denies any associated palpitations, dizziness/LH, chest pain or muscle pain.  He has not had any recent fevers/chills, dysuria, cough, headache, changes in vision, numbness/tingling, weakness, difficulty speaking or swallowing or weight loss. He also denies any history of head trauma.
Physical Examination:
VS: Stable and WNL
General: Well-appearing, pleasant, and in NAD.
HEENT: NC/AT. MMM. Small lesion on tongue.
Lungs: CTAB.
CV: RRR with occasional ectopic beats, no M/R/G.
Abdomen: S/NT/ND. Bowel sounds present.
Neurological exam: AAOx4, CN II-XII intact, motor/sensation/reflexes/coordination/gait WNL
Imaging/Studies:
EKG: Occasional PAC/PVC
CT Brain: Unremarkable except for mild age-related cerebral atrophy
Assessment & Plan:
50 year-old male with a history of HTN and a reported two-year history of infrequent spells presenting with two spells in the past two days. The description of the patient's episodes could be consistent with seizures. Aspects supporting this notion include loss of consciousness and period of confusion following each episode. One of the recent episodes was also associated with tongue-biting and loss of bladder control. Additionally, some episodes are associated with a sensation of euphoria rising from the abdomen to the head which could be indicative of an aura. Characteristics that suggest other causes include the absence of noted convulsions and non-stereotyped nature of each episode which could be due to the patient's poor recollection of these events and absence of reliable witnesses. In the case of true seizures, the possible etiologies in this patient include a mass, metabolic abnormalities, substance use, or concomitant infection exacerbating an existing propensity for seizure activity. Other, non-seizure causes warranting evaluation include cardiogenic syncope particularly given the evidence of ectopic beats on examination and electrocardiogram.
Differential Diagnosis of Syncope
First, is it syncope? History is very important for distinguishing syncope from other causes (seizure, dizziness, vertigo, presyncope). Ask about precipitating events, prodromal symptoms, post-ictal confusion. Common causes of syncope and their associated symptoms are detailed in the figure below.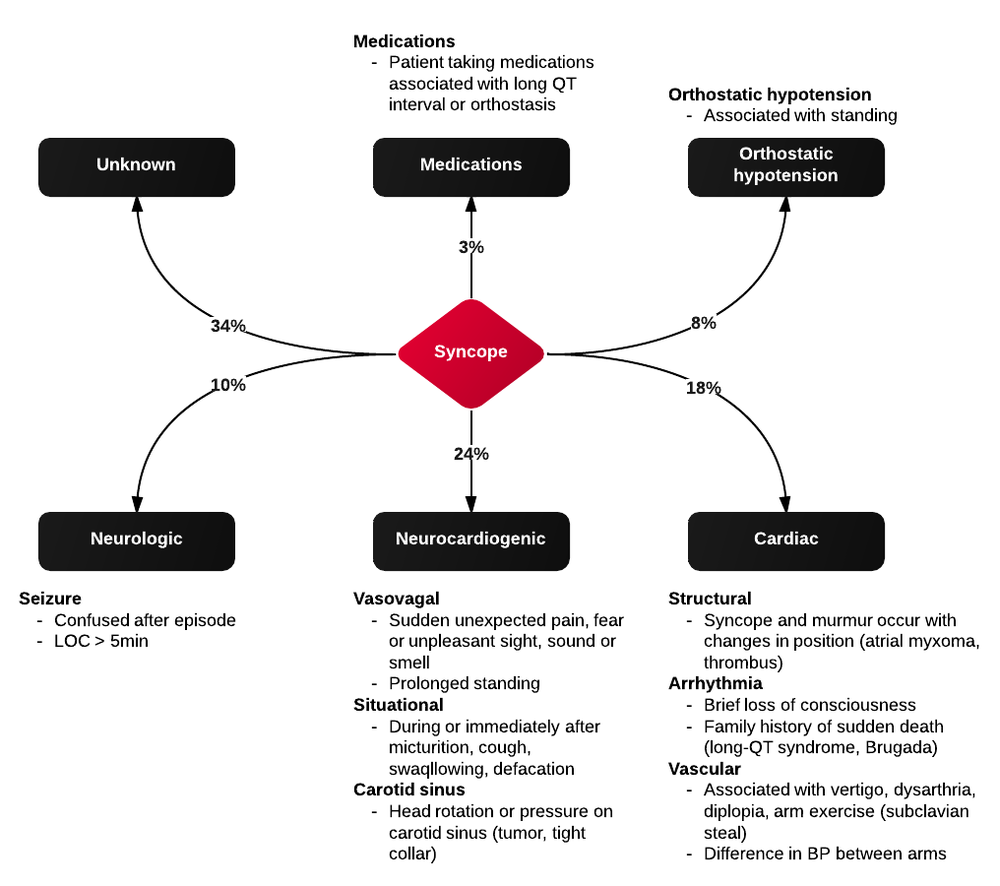 References:
Kapoor, W. N. (2000). Syncope. The New England journal of medicine, 343(25), 1856–1862. doi:10.1056/NEJM200012213432507